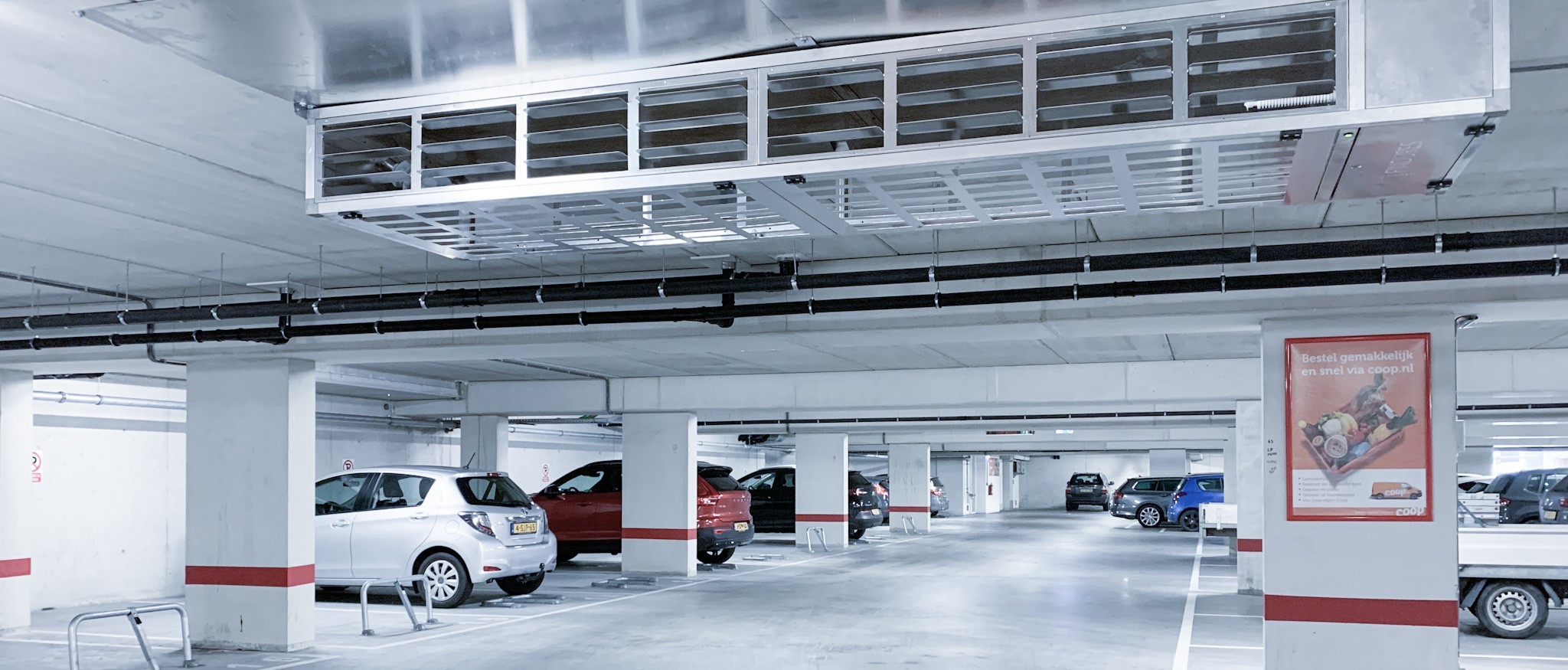 EFFICIENT AIR PURIFYER FOR PARKING GARAGES
Air pollution in parking garages typically concentrates at the exits of parking garages. Therefore parking facilities play an essential role in taking care of improving air quality in urban living area's. The FINDURES offers optimal possibilities to improve the air quality in a parking garage as much as possible. Due to its smart and seamless ceiling construction, a parking garage reaches optimal effectiveness, creating a healthier environment for its users. No valuable parking spaces will be lost to apply these systems. FINDURES operates completely noise free and takes care of better air quality throughout parking facilities. FINDURES attracts particulate matter from traffic emissions, which greatly reduces the harmful fine dust from swarming into the environment.

THE IMPORTANCE OF AIR QUALITY OPTIMIZATION
Air quality is more than ever a top priority for the health and safety of people and their environment. FINDURES takes care of reducing the effects of aerosols, which is fine particulate matter stemming from metals, micro plastics, bacteria, fungi, soot and viruses such as COVID-19 etc. Scientist warn for the inhalation of these microscopic, invisible particles, which effect the respiratory system, the cardiovascular and endocrine system, impacting neurological health as well.


"Air pollution corrupts not only the health of individuals, but also the health of society." - Jackson Lu


SMART CITY AND FINE DUST REDUCTION
FINDURES is a Smart City solution designed for rail, subway metro and parking garages. The system uses a patented technology which was developed in cooperation with TU Delft and tested by TNO. FINDURES reduces fine particulate matter PM10 to as small as PM0.1. The capacity of FINDURES is worth mentioning as it attracts a large array of invisible air pollution particles of a scalable 50%. The system comes with practical LED indication, and is IoT Ready to serve the City of the Future. The FINDURES is sustainable and totally noise free. FINDURES operates safely for humans and animals without the use of filters or mechanical ventilation. The power consumption of FINDURES is the lowest of its kind (18 watts), and efficient.

OUR PROJECTS
Read more about our recent FINDURES projects here.
Contact us