Intertraffic at RAI Amsterdam brought together leading companies, innovators, and experts in the field of traffic and mobility to showcase the latest technology and solutions aimed at improving urban mobility and sustainability. Static Air was also present at Intertraffic 2022 and are proud to have shown our air cleaning systems which work through ionisation and can be installed in various environments such as buildings, roads and tunnels. The air cleaning systems work by removing particles such as (ultra) fine-dust from the air, resulting in improved air quality and reduced health risks for those exposed to such environment.
The Smart City Expo World Congress (SCEWC) took place in Barcelona, Spain from November 15th to 17th, 2022. It was a global gathering of urban leaders, experts, and stakeholders The event attracted participants from over 150 countries, and more than 500 exhibitors showcased their products and services related to smart city technology. Static Air was one of the many exhibitors at the Smart City Expo World Congress 2022 in Barcelona. Visitors had the opportunity to discuss the company's innovative systems, Pamares and FDRS, and learn about their capabilities in improving the sustainability and efficiency of urban environments.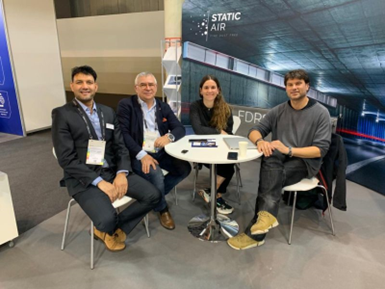 Halls and Walls 2022 was a highly anticipated event for climbing and bouldering enthusiasts from around the world. The expo's was held in a prominent convention centre and attracted thousands of participants over the course of several days. StaticAir was also present at the expo's where we showcased our innovative PMX sports system. This system was specifically designed for bouldering gyms. The PMX sports system provides an efficient and effective solution for cleaning the air in bouldering gyms, ensuring that climbers and boulderers have a safe and comfortable environment to train and compete.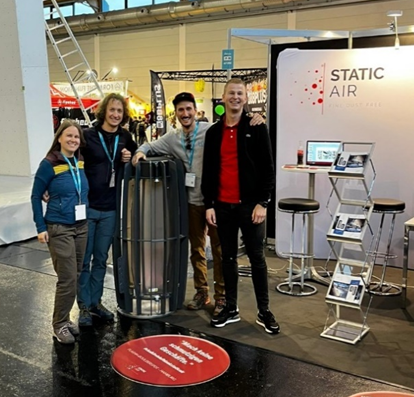 Infratech is a major conference and exhibition aimed at professionals within the infrastructure sector. The first edition of InfraTech was held in 2014, and since then it has grown into one of the most important trade expo's in the infrastructure sector, attracting thousands of visitors from almost every country every year. StaticAir was one of the many participants in the recent InfraTech expo in Ahoy Rotterdam. StaticAir has advanced technologies for particulate matter reduction. Visitors had the opportunity to learn about how StaticAir systems and how they contribute to a cleaner and healthier living and working environment by removing particulate matter from the air.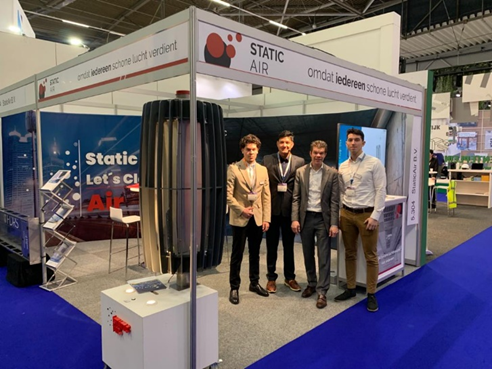 StaticAir expresses gratitude to all the amazing people we met and unforgettable experiences at the 4 recent expo events. Conversations and relationships formed have been meaningful and educational. The expo's have allowed us to showcase our brand and receive invaluable experience and support from attendees. Thankful for the warm reception and looking forward to staying connected and making a positive impact together. We will absolutely be attending these expo's again in the year 2023.